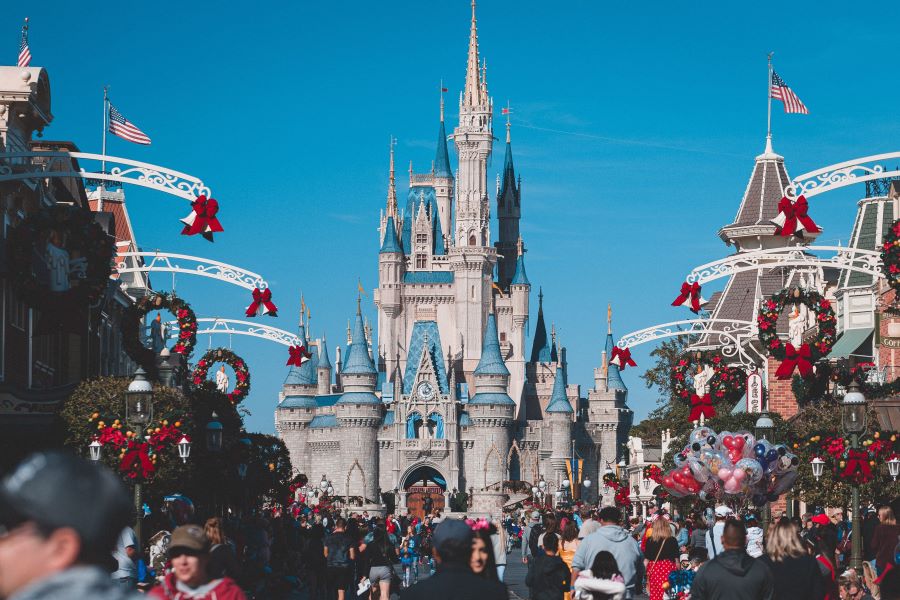 Choosing a name for a pet tortoise can be tricky. Not only will they keep the name for many, many years to come, but most tortoises can't be sexed until they're at least five years old.
Due to this, a unisex name is usually picked for a young tortoise to prevent your female pet from ending up with the name John or Mike.
Some of the best tortoise names are taken from Disney characters. Whether it's Crush, Squirt, or Quasimodo, there are hundreds of awesome names to choose from.
This article lists the top 51 Disney themed names for your new pet tortoise.
1. Crush
Okay, okay, Crush is actually a sea turtle, but the name is too iconic not to use for your pet tortoise, especially if they're as chill as Crush is! [Source]
2. Squirt
As with Crush, Squirt is another world-famous sea turtle from Finding Nemo. He's uber-adorable and a real cool dude.
3. Toby Tortoise
Toby Tortoise is Max Hare's main rival in Disney's retelling of the Tortoise and the Hare. If your little fellow is as steadfast and determined as Toby, consider choosing this name.
4. 'Olu Mel
'Olu Mel is an adorable sea turtle from the Duffy and Friends line of toys. Mel is short for Melody, so if your reptilian buddy seems like they could sing in another life, go for 'Olu Mel.
5. Baby Shelby
As one of the characters of Mickey Mouse Works, Baby Shelby is as adorable as she is sweet. It's a great choice for a unisex tortoise name.
6. Ms. Myrtle
Ms. Myrtle is a staple character in Wander Over Yonder who is known as The Eternal Turtle. If your tortoise could have been a keeper of the cosmos in a previous life, Ms. Myrtle is the way to go.
7. Shelley
Shelley is one of the Muppets and, although Disney doesn't own them, they've made appearances at Disney World, which kind of counts, right? Either way, SHELLey is a pretty cute name.
8. Dudley
Another name not technically belonging to Disney but part of a franchise that regularly makes Disney World appearances, Dudley is Harry Potter's fat, annoying cousin. Coincidentally, he owns a pet tortoise as well, although he doesn't treat it very well.
9. Theo
Theo is the sweetheart from Doc McStuffins. His adorable smile can melt pretty much any heart, and if your tortoise can do the same, consider naming them Theo.
10. Jeremiah Tortoise
Jeremiah is a wise old critter starring in Bear in the Big Blue House. It's a great name if you're adopting a slightly older tortoise.
11. Troubadour
As the narrator of Disney's The Three Musketeers, Troubadour is a classic character and a unique name for a tortoise.
12. Kongwe
Kongwe is an aged, incredibly wise tortoise who lives in the Pride Lands of The Lion Guard. She's a great namesake for a clever, thoughtful-looking pet.
13. Michelangelo
Does it count if Disney very nearly snatched up the franchise? Even if it doesn't, no list of tortoise names can be complete without the four main characters from the Ninja Turtles. Michelangelo is the martial arts master, and if you believe your tortoise could be too, this is a great name to choose. [Source]
14. Raphael
Raphael is the strongest of the Ninja Turtles. If your turtle is as strong as it is cute, go for Raphael.
15. Donatello
Donatello is the nerd of the Ninja Turtles. If you think your tortoise is smarter than the rest, go for Donnie.
16. Leonardo
As the leader of the Ninja Turtles, Leonardo is a great name for a confident, resourceful tortoise.
17. Mushu
Alright, Mushu isn't a Disney tortoise, but rather the fire-spitting sidekick of Mulan. He's mouthy and hilarious, and if you think your tortoise would be too if it could talk, this might be the perfect name.
18. Epcot
If your tortoise is a foodie, Epcot could be a great name. Epcot is a Disney theme park with some of the best restaurants around. It's also a really sophisticated choice for a tortoise with an equally sophisticated palate.
19. Bailey
Bailey is the ginormous, strong but silent beluga whale from Finding Dory. If your pet is a team player who is wiser than they appear, Bailey is the perfect name.
20. Bolt
I love the idea of naming a tortoise Bolt. Even if it is done for no other reason than hilarious irony. No idea who Bolt is? The lead character from this fantastic film:
21. Flash
Flash is the super-slow, chilled-out sloth working admin in Zootopia. Sloths and tortoises have a lot in common, and so, Flash could be a great name.
22. Stitch
Stitch is a childhood icon, and a fearlessly loyal companion. It's a great name if your tortoise fits those traits.
23. Eeyore
Eeyore is a slow talking, gloomy fellow who could be a great namesake for your pet if they share these characteristics.
24. Grumpy
Each of Snow White's seven dwarfs is named after different personality traits. It's a pretty cool idea to call your pet tortoise over its most prominent characteristic too. If your pal is a bit moody, Grumpy may be the way to go.
25. Dopey
This scatterbrained dwarf is a great namesake if you have an equally Dopey tortoise.
26. Doc
Doc is the leader of the dwarves and, although he doesn't seem like it, he's a pretty clever fellow.
27. Happy
If your tortoise is always cheery and manages to infect you with its good mood, Happy is the name for you.
28. Bashful
Bashful is a shy, sweet dwarf and could provide an equally cute name for your pet.
29. Sneezy
Believe it or not, tortoises can sneeze. If your pet regularly emits these squeaky sneezes, Sneezy is a great name.
30. Sleepy
Does your tortoise nap most of the day? It may share Sleepy the dwarf's personality, and sharing his name may also be a great idea.
31. Kuzco
Kuzco is feisty, arrogant, and mouthy. If your tortoise is too, Kuzco could be the best name.
32. Merlin
Merlin is a wise old wizard that helps his friends with their missions. If your pet is equally wise and helpful, this could be an awesome name.
33. Houdini
Does your tortoise regularly escape from its enclosure? If so, Houdini is the perfect name and is shared by an equally resourceful Disney character.
34. Lilo
The other half of Lilo and Stich, Lilo is sweet, loyal, and smart. She also loves helping others and could be a great choice of name.
35. Maui
The enormous, confident demigod of the South Pacific could make a great name for your equally big, boisterous tortoise.
36. Iago
Iago is the scheming parrot from Aladdin, who knows how to lie and manipulate to keep his interests safe. It's a great name for a smart, cunning pet.
37. Mrs. Kipling
Mrs. Kipling is the huge Iguana from the Disney series Jessie. She stole all our hearts, and if your tortoise has done the same to you, this may be a lovely name.
38. Pascal
Pascal is the fierce little sidekick to Tangled's Rapunzel. He's tiny but mighty in every single way.
39. Morg
Morg is an alien who swaps bodies with Phineas in the Disney series Phineas and Ferb. It's on the list because it's a really nifty name for your reptilian little friend.
40. Blinky
Blinky is Mr. Smee's pet chameleon in Jake and the Never Land Pirates. Despite this, Blinky is an adorable name for a pet tortoise too.
41. Randall
Randall is the villain from Monster Inc. If you think your tortoise has an evil streak, this could be an exceelent choice.
42. Boo
Boo is the sweet, innocent toddler from Monster Inc. too. If your pet is as curious and friendly, Boo is a wonderful name.
43. Buzz Lightyear
Buzz is a really great name for a tortoise, especially considering most of them can't move all that fast anyway. Buzz is sweetly ironic.
44. Lightning McQueen
Another ironic name choice, Lightning McQueen is a chuckle-inducing option for a tortoise's name.
45. Sully
The gentle giant of Monster Inc., Sully is a great name for a big old softy who is much sweeter than its harsh exterior.
46. Wall-E
Wall-E is an adorable robot from the movie of the same name. It also makes an adorable, nostalgic namesake for a pet tortoise.
47. Sebastian
The rambunctious, singing lobster from Little Mermaid could be a great name choice if your tortoise has as much spunk and character.
48. Quasimodo
Like tortoises, Quasimodo does not necessarily seem cute at first, but soon wiggles his way into your heart. I think Quasimodo may just be my favorite tortoise name on this list.
49. Balthazar
Although Balthazar is a villain, the sheer sophistication of the name makes it a great choice for a refined, gentlemanly tortoise.
50. Heffalump
Heffalumps are elephant-like creatures in the universe of Winnie the Pooh. Their sheer size and general roundness mean Heffalump could be a great name for a tortoise too.
51. Ursula
Although she's a sea witch, we can't help but sympathize with Ursula. Plus, her name is pretty cool too!
52. Ariel
Speaking of the Little Mermaid, Ariel could be a lovely name for a girl tortoise. Given Ariel is part fish, part human, it could be a fitting name for a tortoise with loads of personality.